Charity now mortgage free
Grimsby Lincoln News May 02, 2013
It was an afternoon that staff and volunteers at the Grimsby Benevolent Fund (GBF) won't soon forget. The volunteer appreciation luncheon, hosted at Mountainview Church in Grimsby, was marked with extraordinary moments of emotion and optimism, and ended with a welcome announcement – the charity is now mortgage free. And, without a mortgage, the organization will have more resources to put into helping the community.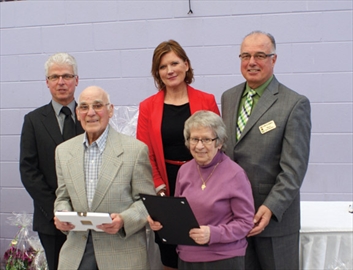 Olga and Bernie Prevost receive their 25 year volunteer service pins at the April 25 GBF volunteer appreciation luncheon. Behind the Prevosts are GBF president Jamie Stevens, regional councillor Debbie Zimmerman, and Grimsby Mayor Bob Bentley. The Prevosts were among dozens of volunteers honoured for long service to the charity.
"On June 12, 2010, we formally opened the doors to our new building," said GBF executive director Stacy Elia. "April 25, 2013 is another special day, and an important day. It's official. The GBF does not have a mortgage. "
For the past three years, the charity, which was founded in 1965 by Mike Barretto, has been working to pay off a $1.3 million mortgage on the Elm Street property that houses their foodbank and thrift store. Now they are free of the mortgage, Elia said the GBF would be able to do more for Grimsby.
"This means we'll just put more money into our programs," she said.
by Pieter Van Hiel