Grimsby charities partner up for affordable housing
Feb 24, 2016
  Grimsby Lincoln News
GBF, GAHP forge new partnership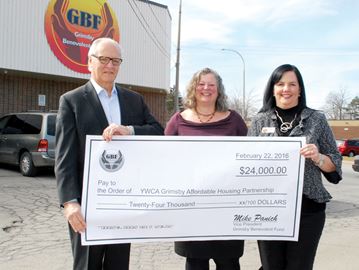 By Amanda Moore
GRIMSBY — Two Grimsby charities with a goal of helping people overcome poverty are teaming up to put more roofs over the heads of those who need them.
On Monday, the Grimsby Benevolent Fund signed off on a $24,000 donation to subsidize rent for four additional affordable housing units in town. This brings the total number of units in town to 21, from the existing 17.
"It's a tremendous day for this community and both of our organizations," said Stacy Elia executive director of the GBF on the new collaboration with the YWCA Grimsby Affordable Housing Partnership. "The GBF is proud and thrilled about this new partnership that we know will make a significant impact on the people we are serving."
The donation will provide rent supplements to help an additional four families in Grimsby, who are likely already being served by GBF.
YWCA GAHP currently rents out 17 apartments and housing units in Grimsby that house 23 adults and 32 children.The majority of these clients access GBF's services, be it for food or emergency assistance. Without the two agencies' support, these families would not likely be able to achieve self sufficiency.
The transitional support workers at YWCA GAHP receive anywhere from 15 to 20 inquiries each month about their programming and there is always a waiting list for affordable housing in town. It is these statistics that started the conversation between the GBF board and YWCA GAHP executive director Elisabeth Zimmermann about a possible partnership to fight poverty together.
"We are extremely grateful for the opportunity to house an additional four families in Grimsby," said Zimmermann. "Having a home, a safe haven, is the first step in a family's journey back to independence. We are thrilled that the GBF's generous contribution will give more families a place to start from. GBF has shown great leadership in creating more opportunities for families to have access to supported housing."
Zimmermann said the partnership is a great example of what can be done when community organization combine their resources.
GBF board member Mike Panich said the partnership was a good fit for the organization.
"Housing fits naturally with what we do at GBF," said Panich. "We provide emergency services but have no formal program. It doesn't make sense to reinvent a housing program when we can partner and make an existing program stronger."
Zimmermann said while there are wait lists for transitional housing across Niagara, the situation is most dire in Niagara West where there are a lack of affordable housing units. Having the additional units will enable YWCA GAHP to move people up the wait list and get more families back on their feet. It also enables the agency to keep people in their home communities where they have a support system in place.