Nobody should go without at Christmas: GBF
Food bank seeks support for Christmas hamper program
Grimsby Lincoln News
By Amanda Moore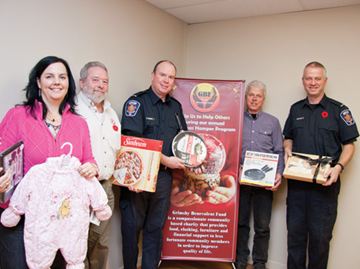 AMANDA MOORE/STAFF PHOTO The Grimsby Fire Fighters Association is continuing a long standing Christmas tradition this year by collecting non-perishable food items at the Grismby Santa Claus Parade Dec. 7 in support of the Grimsby Benevolent Fund's Christmas hamper program. Pictured from left are GBF executive director Stacy Elia, board member Bruce Bond, firefighter Jeff Dancer, GBF president Jamie Stevens and firefighter Jim Bergshoeff.
GRIMSBY — Grimsby's firefighters do more than fight fires.
They are educators, reminding the community to always be fire safe. They are protectors of lives and neighbourhoods. They are supporters, doing their part to help those in need.
And there is no time like Christmas for the Grimsby Fire Fighter Association to be supporters of their community.
Continuing a tradition that extends more than 30 years, the men and women who protect us from harm will be doing their part to ensure all residents of Grimsby have a happy holiday.
The Grimsby Fire Fighters Association has once again teamed up with the Grimsby Benevolent Fund to provide much needed support at Christmas time. Between 25 and 30 fire fighters will walk the Grimsby Santa Claus Parade route, collecting non-perishable food donations for the GBF. The department asks that those coming to enjoy the parade, think of the less fortunate members of the community.
"We look at it as being part of our Christmas," said firefighter Jim Bergshoeff of the longstanding tradition between the firefighters and GBF. "It's just what we do."
So far, 65 families have registered with the GBF's Christmas hamper program, a number executive director Stacy Elia expects to more than triple as the holidays draw nearer.
"Last year we had 200 families registered with us as Christmas time," said Elia. "I expect it to be the same or higher this year."
Elia said the food bank sees more and more community members turning to them for help. But she knows there are residents out there who are suffering in silence. Residents who can't afford the gifts under the tree or the feast on the table.
"Pride keeps a lot of people from our doors," said Elia. "No one needs to not have a merry Christmas or not have any food in their cupboard in Grimsby. It saddens us at GBF to learn that there are people in our community who are suffering."
The GBF has been able to reach more residents, through partnerships with other agencies such as Big Brothers Big Sisters, The FORT, West Niagara Second Stage, Grimsby Affordable Housing Partnership and the Grimsby Life Centre.
The GBF hopes to provide all clients with a gift this Christmas. Elia is amazed by the simple requests she has heard from clients.
"I had a man in here the other day and he asked for new towels," said Elia. "It's an eye opener what people are asking for. They're asking for the basics of life, nothing fancy, just everyday stuff."
Donations of food and toys can be dropped off at the Grimsby Benevolent Fund, 40 Elm St., Grimsby. A number of local businesses also have drop boxes for both food and toy donations. Giant Tiger has again erected its Angel Tree, which features the Christmas wishes of the younger GBF clients.
Food donations can also be brought to the Dec. 7 Grimsby Santa Claus Parade, where members of the Grimsby Fire Fighters Association will be collecting. All donations should be in by Dec. 18.
Volunteers are needed to help sort on Thursday, Dec 19 at Trinity United Church beginning at 6:30 p.m. Packers are needed for the same time on Friday, Dec. 20.
The GBF is also seeking volunteer drivers to help deliver the hampers on Saturday, Dec. 21. Volunteers are also needed to help sort and pack remaining food to be returned to the food bank shelves.
http://www.niagarathisweek.com/community-story/4218531-nobody-should-go-without-at-christmas-gbf/