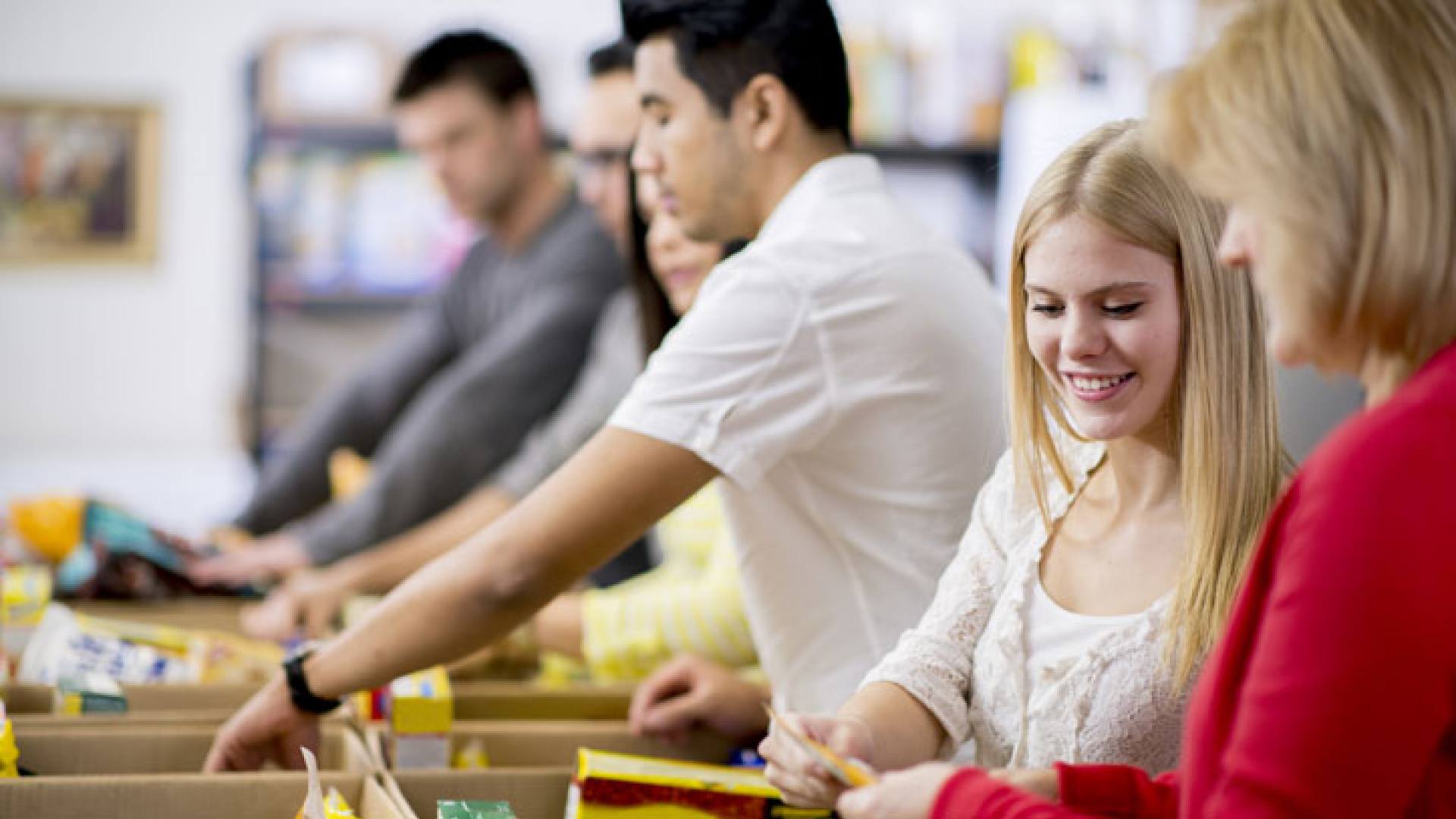 Volunteer With GBF Community Services
Volunteers are the heart and soul of our organization, and they play a vital role in all facets of our operations. We welcome corporate teams, schools, service groups and church group participation. We encourage you to get the most out of your volunteer experience by sharing your time and talents with us. For more information, contact retailcoordinator@gbfgrimsby.com.
There are a variety of volunteer opportunities available at GBF Community Services, and we welcome the opportunity to meet with you to discuss your areas of interest. Volunteers have flexible shifts during business hours:
Monday thru Friday: 9:00am-4:30pm, Thursdays until 8pm

GBF is closed on Sundays and holidays other than for scheduled activities.
There are other volunteer opportunities outside of these hours and we ask you to speak with us if regular business hours do not work with your schedule. We have three major food drives per year in the Fall, at Christmas and in the Spring and need help during these times specifically.
Benefits of Volunteering at GBF
You will be part of our GBF community

You will meet new friends

You will be helping an important community organization

You may find new opportunities

We hope you will feel a sense of pride and achievement

our efforts will help many families and individuals in our community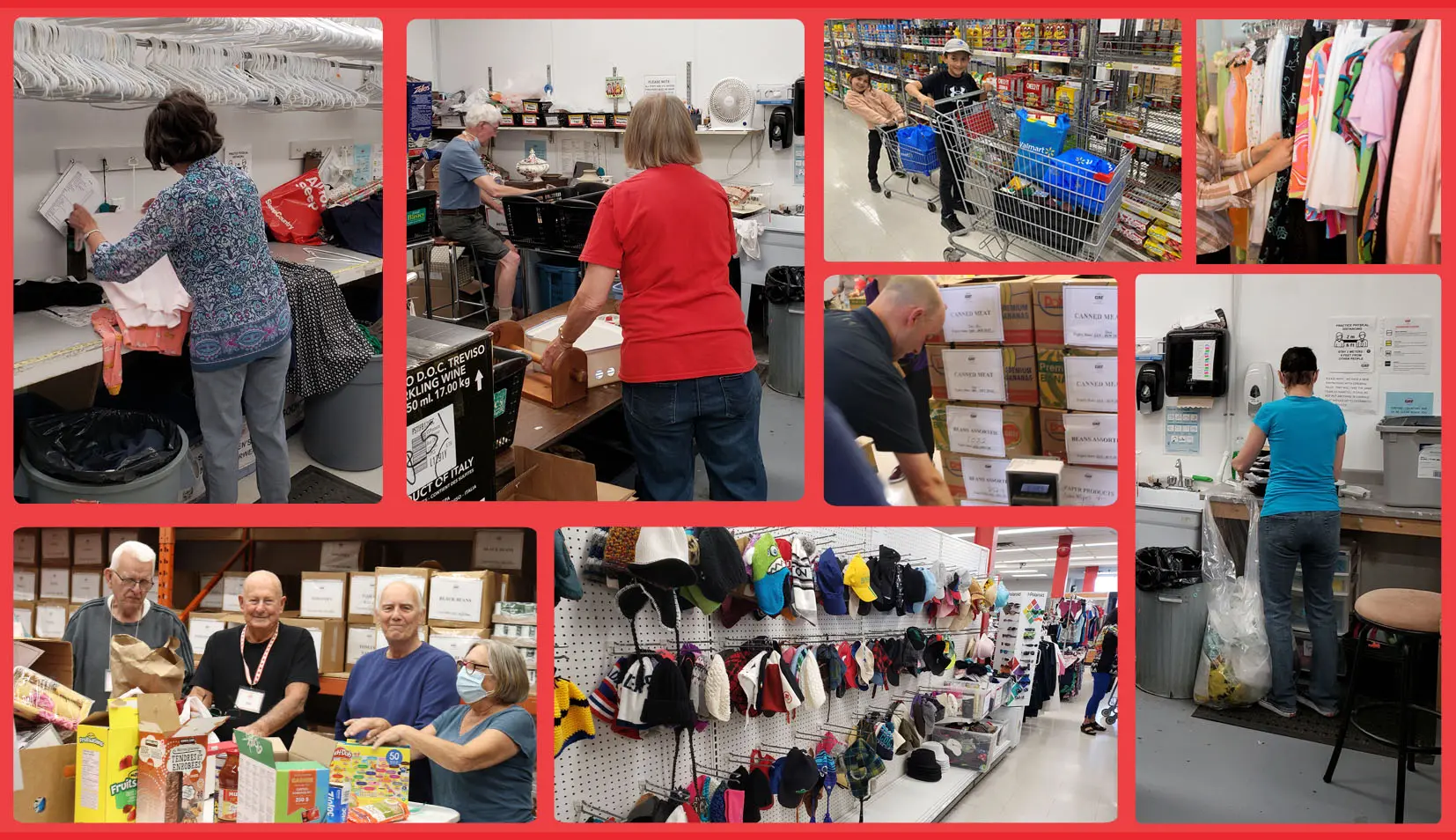 Food sorting: Sorting food donations into different categories. This would include weighing and replacing incoming donations, checking expiry dates, etc.
Shelf Stocking: Organizing incoming donations for the shopping area and warehouse.

Client Care Packages: This includes assembling backpacks for back-to-school, Easter, Thanksgiving and Christmas hamper programs as well as baby layettes.

Program Participation: Assemble packages for Birthday Program, Hunger Awareness and Kid's Snack Program.

Grocery Pick-up: Picking up weekly purchases at local grocery stores. This would include bread, milk and Ontario Association of Food Bank donations.
Sorters: Unpack, tag and stock clothing, household goods, crafts, electrical items and toys.

Cashiers: Process purchases and bag merchandise.

Electronics Testing: Test electronics and appliances.

Furniture Desk: Assist at furniture desk, write invoices, provide customer service support.

Restocking Retail: Assist with re-merchandising the store to ensure maximum space for newly donated merchandise.

Warehouse Receivers: Greet community donors, help to unload donations, move goods to sorting areas.

Dump Run: Taking garbage to the landfill site in GBF truck.
These roles are considered light to medium labour, but we can provide volunteer opportunities for all levels of ability.
Can I choose my volunteer role?
There are a variety of tasks that volunteers assist with on any given day. The staff will assist you in making the best choice to suit your interests and the needs of GBF.
Do I have a schedule or can I just drop in when I have time?
We encourage all volunteers to sign up on the schedule in advance. This allows us to be prepared and work effectively and efficiently. You can schedule yourself on daily, weekly or monthly shifts for yourself or your group.
Can I bring a group?
We welcome corporate teams, schools, service groups and church group participation. Our volunteer projects can accommodate groups of various sizes and provide team-building opportunities. Groups need to be scheduled in advance.
Can I complete community service hours for school at GBF?
Yes! We appreciate your partnership and welcome you to become a volunteer. Please fill out a volunteer application and call to arrange your orientation session.
What should I wear?
The dress code at GBF is casual and comfortable. Running shoes, work boots and flat-heeled shoes are ideal. No open-toed shoes, flip flops or sandals are allowed in the warehouse or store for safety purposes.
What if I have food allergies?
We are not a peanut-free environment. Know your allergies and medical needs as GBF cannot be responsible for accommodating existing medical conditions.